Welcome to the Bushveld Security Group Website
Our most remote and rural areas in South Africa, has seen a significant increase in crime. This unfortunate situation created an enormous opportunity for Bushveld Security Group who specialises in security services, safety of man, animals and assets in these areas.
We have been operational since 2009, although some of our senior staff's extensive experience date back to the 70's.
Bushveld Security Group has a unique strategy that set new standards in security. Our team of experts have a structured, military-like approach to conservation and employ tactics, skills and experience gained in different operation theatre such as Special Forces Units, SA Police Services (Koevoet) and Law Enforcement Agencies to help combat the serious shortfall of armed protection and response in these challenging environments.
PSIRA REGISTRATION: 2432052
"Specialised rural security since 2009"
Our slogan underlines the importance of securing areas that is hard to
reach and often neglected by others.
Bushveld Armed Response was started in 2009 by CEO, Sebastiaan Steyn who was later joined by the late Nick de Kock (former MD). Both these men have a passion for nature, conservation and the safekeeping of people, animals and assets. Over the years they have been very fortunate to hand pick some of the best staff from different backgrounds who share the same passion, dedication and ethics to help build the business and expand the services we offer. As the company and its services expanded over the years, it became obvious that the name should change to Bushveld Security Group, to accommodate all the other services we now offer.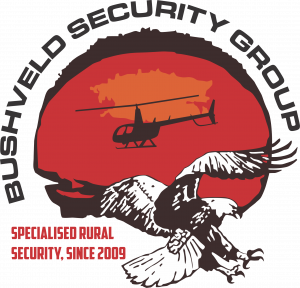 Bushveld Security Groups' logo represents the importance of conservation. The majestic Fish Eagle is one of Africa's most spectacular raptors. It's strong presence, sharp focus and daring nature allows it to fly higher than expected, often stretching its limits. The helicopter represents our ability to respond to outlying areas that could otherwise be difficult to reach.
National Operations Manager
Jaco Erasmus – 060 925 0431
jaco@bvsg.co.za
CEO
Sebastiaan Steyn – 082 572 2053